You're new here? I'm happy you found your way to my website. Welcome!
On Mafambani you find information about countries we visited from my around the world trip, helpful tips how to save money or how to plan a round the world trip. I love nice cafés, good books, yoga and being in nature. Also, I love to share new stories with you in German. 
When I lived in Mozambique in 2011 for half a year a lot of people called me Mafambani. In the local dialect there, a Mafambani is a person who is always on the go. A person who never rests a lot and who has itchy feet. Well, that's me.

Since my exchange semester back in 2007, I even love to travel more than I did before. My itchy feet took me already to lots of places and I am so glad I took this big step to travel the world.
A few months ago I came back from 13 months of traveling. The journey is interesting as one goal of mine was to become a better version of myself. One part of it, is that since a few months I live as a Vegetarian.  Another amazing journey I experienced was my yoga teacher training in Bali last October.
I'm also working on a book and I have several other plans in my head, as I want to build up my own business. 
I love to blog, to research for my articles and to write them. It's quite time-consuming. If you want to support me, there are several ways to do so. I would be happy if you register yourself for my newsletter, and there are some other ways. Thank you for helping me growing this blog. 
Book your next trip through Booking, and with this link, get 15 € for your next booking. 
2015 and 16 I traveled to the following countries. If you want to receive a postcard from the next country, read more here. 
Mozambique 
South Africa
Seychelles
United Arab Emirates (Dubai, Abu Dhabi)
India
Sri Lanka 
Malaysia
Borneo 
Thailand 2x 
Indonesia 
Cambodia 
Hong Kong 
Costa Rica 
Utah, USA 
Slovenia 

In 2017 and 2018 I saw the following places:
Sicily, Italy 
Berlin, Germany
Seville, Spain 
Milan, Italy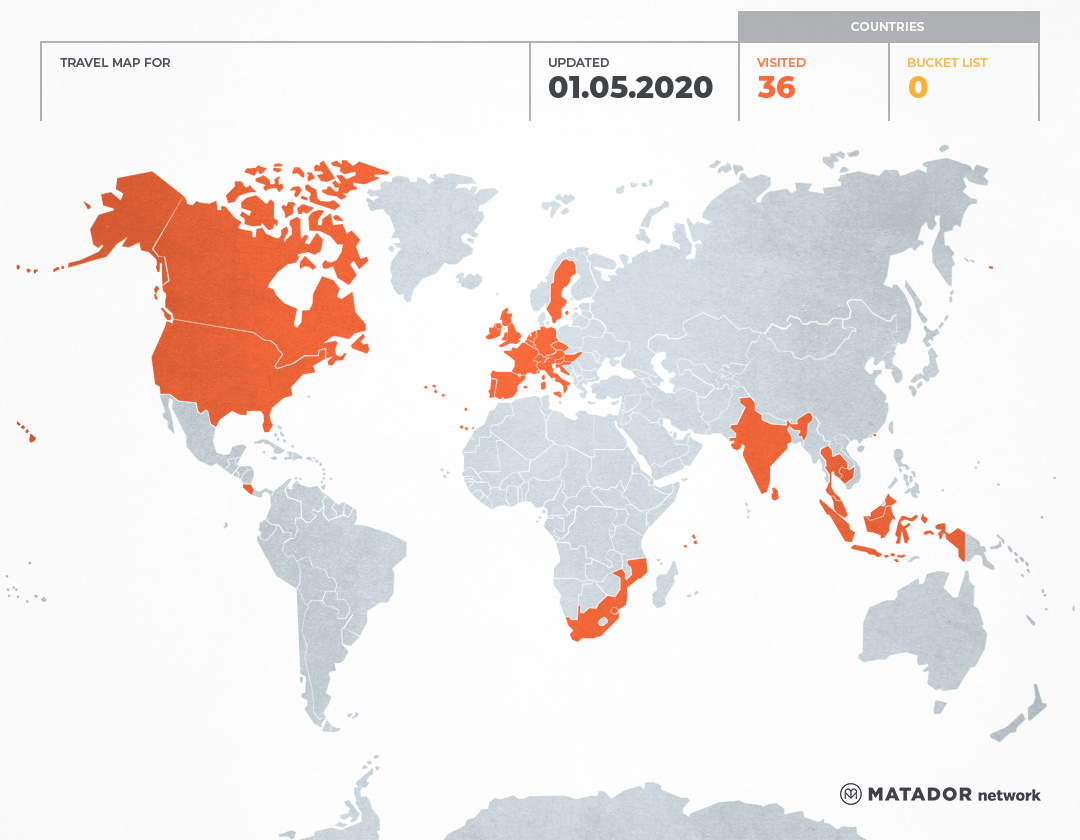 Melanie has been to: Austria, Belgium, Canada, Switzerland, Costa Rica, Czech Republic, Germany, Spain, France, United Kingdom, Hong Kong, Croatia, Hungary, Indonesia, Ireland, India, Italy, Cambodia, Liechtenstein, Sri Lanka, Luxembourg, Monaco, Malaysia, Mozambique, Netherlands, Portugal, Seychelles, Sweden, Slovenia, Swaziland, Thailand, United States, South Africa.
Get your own travel map from Matador Network.